Euro-Med Youth Networking
To develop new collaborations in the field of youth in EuroMed region and to create the new cooperation's for future fundraising.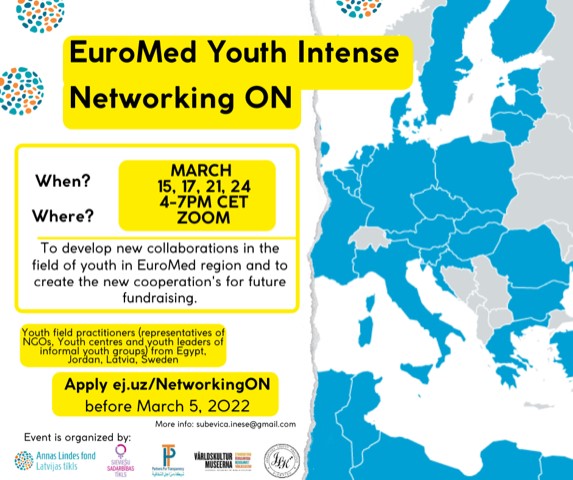 Have you thought about youth cooperation in the EuroMediterranean region?
Do you have ideas and would you like to implement them with motivated partners?
Would you like to learn more about the various financial programmes supporting cooperation initiatives in the EuroMed region?
Are you interested in the consultation process in the preparation of project applications?
Then, this event is for you.
Target group: Youth field practitioners (representatives of NGOs, Youth centers and youth leaders of informal youth groups) from Egypt, Jordan, Latvia, Sweden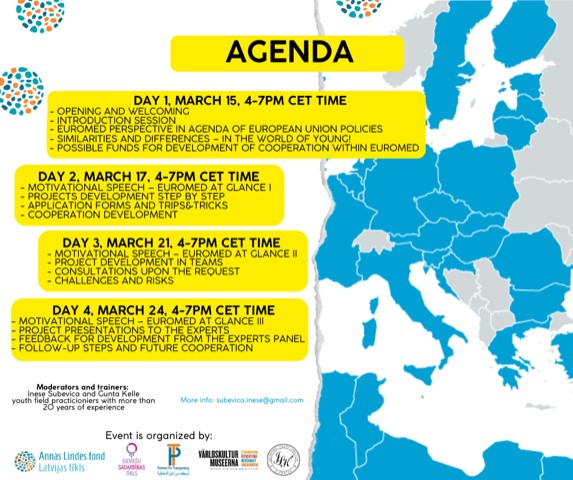 Where? Online via Zoom
Working language – English
Application by 5 March
• All the participants will receive full Educational materials Pack and List of participants after the event. Educational videos on various topics will be prepared and disseminated among the participants and the wider society.
More information needed?
Please contact the moderator of the event Ms.Inese Subevica (ENG, RUS, LAT) subevica.inese@gmail.com
+++++++++++++++++
This event is organised by the Anna Lindh Foundation coordinators in Latvia, Egypt, Sweden and Jordan. With the support of the Anna Lindh Foundation.