Celebrating Our Diversity
A Euro-Med civil society forum for promoting inclusive, sustainable and intercultural cities

BACKGROUND
In 1995, the Barcelona Process laid down the foundations for a regional collaboration in the Euro-Med region and the establishment of the Anna Lindh Foundation to promote intercultural dialogue between the nations of the North and South of the Mediterranean. The Barcelona Declaration set the framework for a new regional relationship, aiming at achieving peace, stability and growth in the Mediterranean Partner Countries. It covers political, economic and social cooperation and represents a turning point in Euro-Mediterranean collaboration.
Where do we stand now after nearly 25 years from the launch of the pillars of the Euro-Med partnership? In the North shore of the Mediterranean, we are facing urgent challenges such as the rise of right populist movements, racism and hate speech. In the South shore, the setback of the "Arab Spring" and democratic movements have challenged an entire generation of youth and women rights advocates. In fact, both shores are facing common challenges such as climate change, violent extremism, democratic governance and economic (de)growth.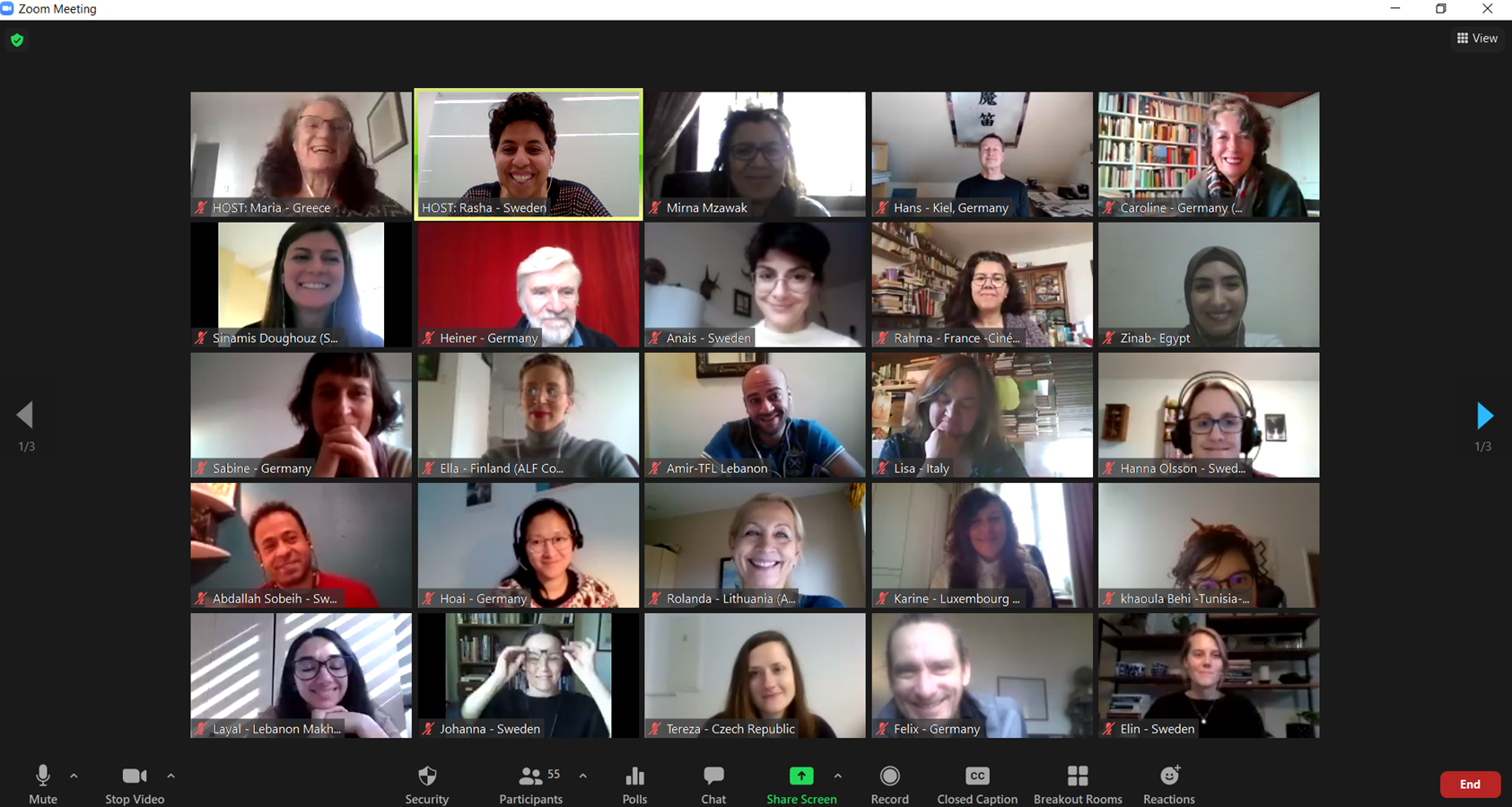 For the third year, the Swedish network organised Celebrating Our Diversity forum on 24-25 November 2020 (via Zoom). The Forum brought together more than 60 members and alumni of the Anna Lindh Foundation in the 42 Euro-Med countries.
The programme included a world cafe round and reflections on "what did I learn about myself and my work during the pandemic?" We shared opportunities and challenges of our intercultural dialogue working during the pandemic times. And, we concluded with sharing our dreams for the Euro-Med region in 2045 (Barcelona+50). Participants exchanged good practices on how to build inclusive, sustainable and intercultural cities especially in post pandemic societies. Dimitrios Cavouras from the Anna Lindh Foundation gave a presentation on the ALF networks work.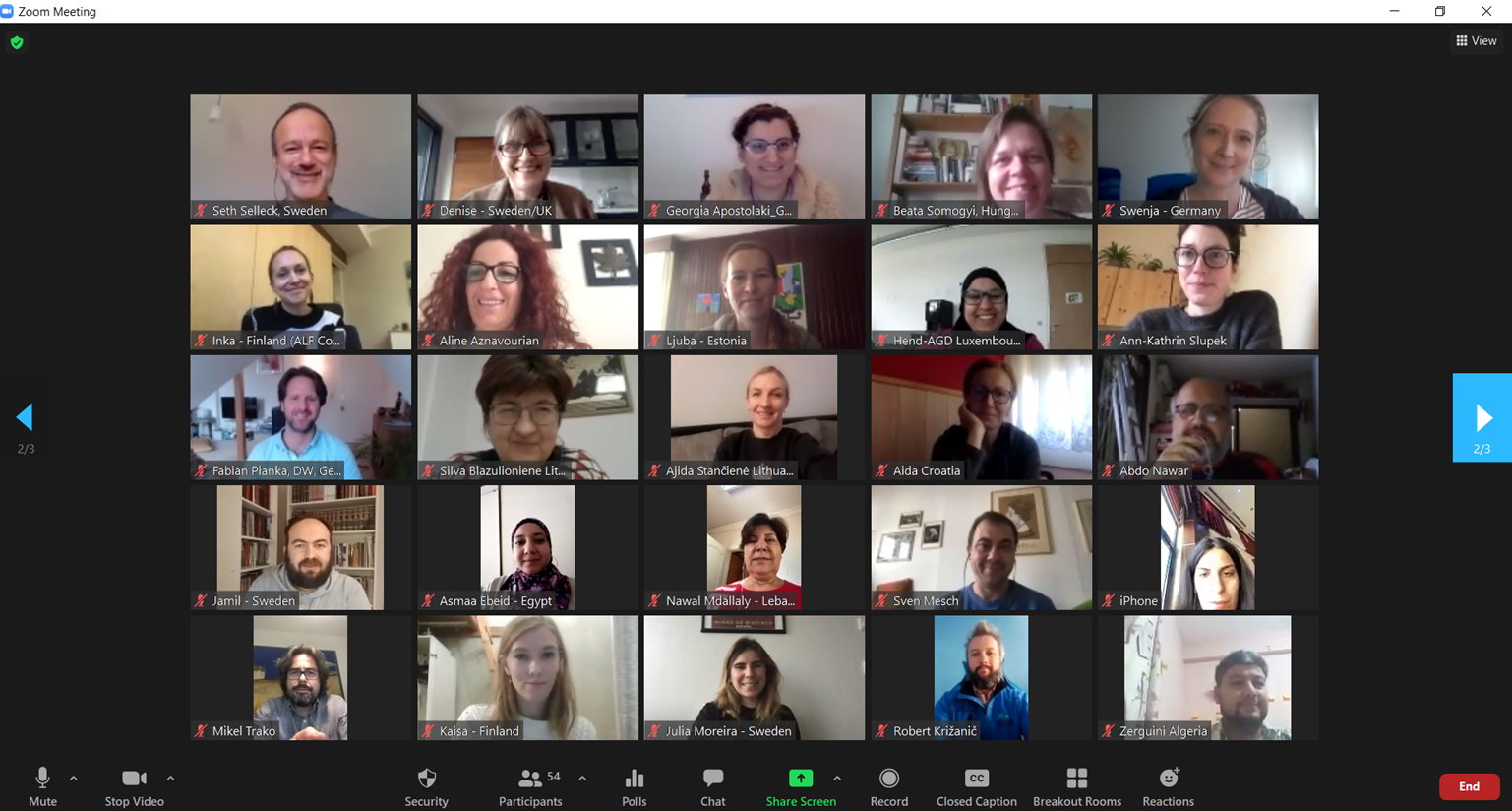 The next edition of the forum is scheduled to take place in Germany in the Spring of 2021. Follow us on Facebook for updates.
The forum was facilitated by Maria Scordialos (Greece). Maria's work focuses on creating participatory processes that invite people from all backgrounds to have conversations that matter. She designs gatherings, trainings, and longer-term initiatives that provide the opportunity for public engagement, organisational development, systemic change with longterm impact.
➖➖➖➖➖➖➖➖➖➖➖➖➖➖➖➖
An initiative of the National Museums of World Culture (Sweden) in partnership with Centre for Cultural nd General Studies Karlsruhe Institute of Technology (Germany), Finnish Institute in the Middle East (Finland) and the Lebanese National Commission for UNESCO.
For queries, please write to ALF Swedish coordinator rasha.shaaban@varldskulturmuseerna.se
With the support of