Yaqui Nation is located in the Río Yaqui Valley in the state of Sonora in northwestern Mexico. With the arrival of the Spaniards in the 1700s, Yaquis were christianized by jesuit missionaries, but still managed to preserve much of their older traditions.
Their area is divided into eight independent villages (pueblos), each village with its own traditional board. The division was made by catholic missionaries during the colonial period. The eight villages (Ocho Pueblos) are Loma de Bácum, Vícam, Pótam, Tórim, Belem, Rahúm, Huírivis and Cocorit.
Annihilation, deportation and colonization
In the early 1900s, during the end of the so-called Yaqui War, Yaquis were deported and forced to leave their homes. Some were deported to Yucatán, others to Tlaxcala, and some fled to northern regions, which today are part of the United States.
During the Yaqui War, the federal and state governments considered three possible solutions to the conflict with Yaquis: 1) a war of annihilation 2) deportation 3) colonization. Under President Porfirio Diaz, Yaquis were either executed, hanged, shot, or died on the battlefield. The war of annihilation waged against them was systematic and protracted; what would today be called genocide.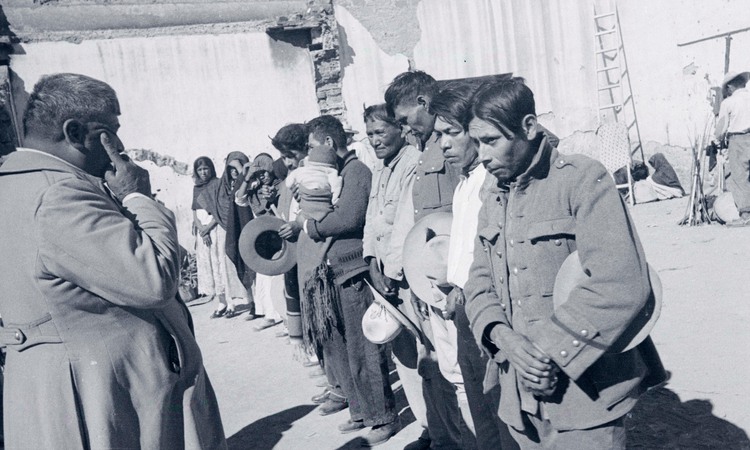 When Yaquis were forced into exile, they brought with them dress, musical instruments and other paraphernalia that were important for conducting traditional ceremonies in another place. In Tlaxcala, the men enlisted and were part of the first line of defense during the ongoing civil war.
The head of the Yaqui battalion and army was General Jose Amarillas. It was through his support that the now repatriated objects came to Sweden. He was a friend of the Danish sisters Bodil Christensen and Helga Larsen, both of whom had supported Yaquis on a number of occasions.
Resilience and perseverance
Throughout history, the Yaquis struggle has had four main purposes; defend the homeland, self-government, water supply and that those who were deported to different places could return. They have shown tremendous resilience and perseverance, largely due to highly valued cultural symbols of a shared identity. Their existence is about traditions not forgotten and the land as a living being, and these concepts have created a strong sense of cultural belonging.
Letter from Gösta Montell in Mexico to the Etnografiska Museet, December 11, 1934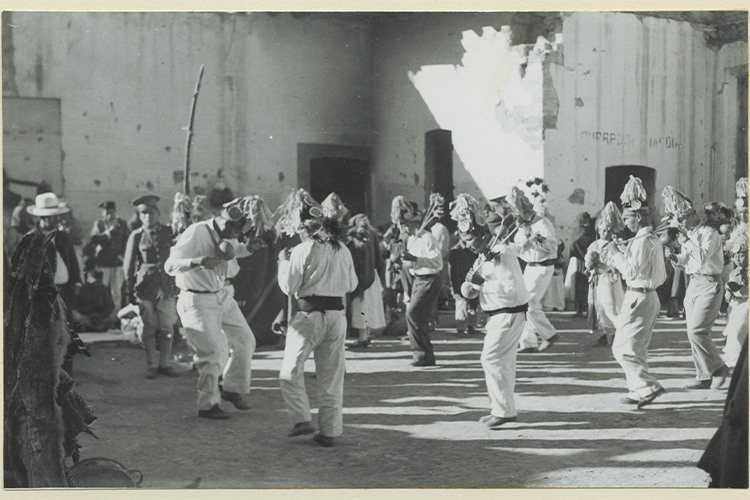 "Last Friday we went to Toluca and got a collection of zarapes of the kind that the Indians themselves use. Early on Saturday, we set off for Tlaxcala with the Danes to attend a dance party with the Yaqui Indians. It was undeniably an absolutely sensational event. I can't in a few words portray the party, it would require several pages. However, it was the Indians in the Indianbooks, who celebrated a memorial feast for their dead. The dances went on for more than a day and a half.
The Yaqui soldiers, who normally walks around wearing sloppy and loosefitting European uniforms, had now dressed up wearing masks and ankle rattles and were performing half-naked their ancient pantomins with deer and coyotes. It was amazing but utterly fascinating. All strangers are forbidden at the dances but the Danes are good friends with the general and consequently we were able to move completely freely and film and photograph at will. We even managed to buy some of a dance attributes and later on we hope to get more. It is a collection, which most museums would envy us."